VCU Beats Duke in the NCAA Tournament!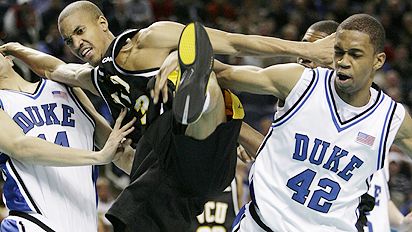 Holy cow, would you look at that headline???
Never in a million years did I imagine I'd see those words together in one sentence, but VCU has upset the Duke Blue Devils, icons of college roundball, in the first round of the NCAA Tournament. They trailed by double digits in the second half, came back, and beat Coach K's squad 79-77 behind the strong play of Eric Maynor, who was also the hero in the CAA Championship game against George Mason.
George Mason, eh? Dare the Rams fans dream of a tourney like GMU's last year?...
Friday morning update!
VCU is the national sports headline.

Associated Press:
"The Rams, who never led by more than two points, overcame a 13-point first-half deficit and also trailed by seven with 8 minutes left in the game."
Let's look at some new pictures of Eric Maynor laying the smackdown on the Blue Devils: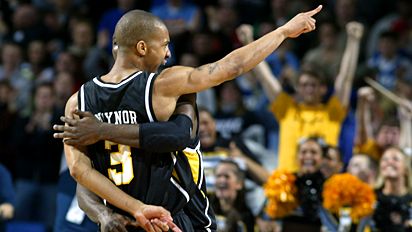 Labels: sports